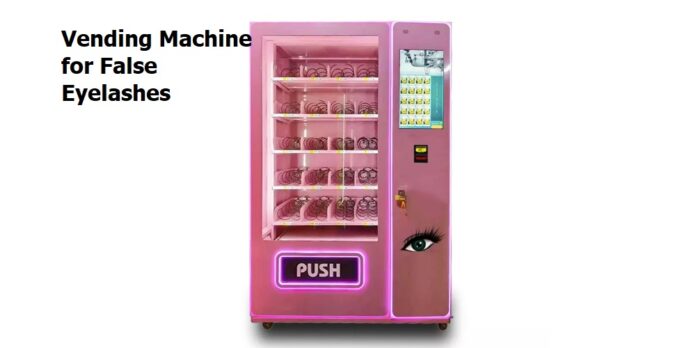 You've probably heard numerous stories about the lucrative eyelash vending machine industry. These last few years have seen an increase in interest in concepts for futuristic beauty vending machines.
Seeing young, driven women find their way in the often male-dominated business world, sourcing supplies, securing prime real estate, and developing original concepts is truly motivating. False eyelash vending machines are the latest innovation in the ever-expanding beauty vending industry, which has previously only existed in online retail.
Vending Machine for Eyelashes a Profitable Business
An eyelash vending machine's price is much lower than most people expect. Well, not if you factor in the profits. One of the most successful business decisions made by 27-year-old Irish woman Colleen O'Grady was opening an Eyelash Beauty Vending and selling over a thousand pairs of wink lashes in just over two weeks. A part of the success can come from strategically placing your beauty vending machines. O'Grady picked a fantastic location in Dundalk's Marshes Shopping Center, which paid off. A significant financial gain in a short time frame.
False eyelash vending machine entrepreneur Ashleigh Stevenson has two locations in two different malls. How did she think of her own list of items to put in a beauty vending machine, though? Ashleigh originally viewed business as something she could do in the time it would take to get her eyelashes done on Christmas Eve. The success of her vending machine for false eyelashes didn't take long for her to realize.
Ikrave Vending, which sells both used and new beauty supply vending machines, claims that their machines bring in $2,000 monthly on average and require less than $3,000 in startup funds and about 5 hours of maintenance time per month.
Eyelash Product Concepts for a Beauty Vending Machine
What, then, is the secret to the success of a Beauty Vending Machine for eyelashes? The key is found in marketing, of course. Customizable eyelash vending machines allow you to appeal to a specific demographic by featuring an aesthetic that speaks to them on a visceral level.
Most women were immediately drawn to the pink and gold beauty vending machine created by Colleen O'Grady. Customers appear to be pleased with Ashleigh Stevenson's pretty and cute machine, based on the flurry of tweets, stories, and posts about it.
Instead, Clinique's beauty vending business takes a much more understated and minimalist approach. They are, after all, an Estee Lauder product, and the brand's signature minimalist aesthetic extends to its packaging.
Reasons Why You Should Have a Vending Machine Business
In this case, looks are everything, pees. Customers care more about aesthetics, so it stands to reason that they would prefer colors, shapes, and color schemes that appeal to the eye. Pastel colors are welcoming and calming, even in the Beauty Vending Machine industry. The colors neutral, peach, and soft have a soothing, welcoming vibe that has a positive psychological effect on buyers.
Just because you want your Eyelash Beauty Vending Machine to match your bedroom doesn't mean you have to get pink lashes. Other fantastic choices include mauve, baby blue, peach, mint green, lavender, and periwinkle.