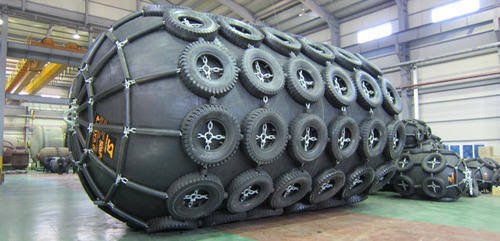 Fenders are very useful for boats, tugs, and vessels. Luckily, they come in different types, so you get to choose based on the type of boat you use. Some of the options you have to include;
Pneumatic fenders
Yokohama fender, popularly known as pneumatic fender, is probably the most common type of fender you will see around. This type of fender performs best when you use it in a double banking system or when there is a bit of a Ship to Ship transfer in the middle of the sea. Amongst other fenders, the pneumatic option stands out as one of the best options with a unique feature. Its uniqueness comes from having a little reaction force even when the deflection is low. With this feature, the pneumatic fenders are the best choice when you are using a vessel to carry liquids or the cargos that are used for defense against attackers. You have four options of pneumatic fenders to choose from, and these four options are named from type one to type four.
Cylindrical fenders
Cylindrical fenders are useful for different types of vessels, but the function is basically the same. The primary function of a cylindrical fender is to ensure the berthing on a straight line. It has another name in the French known as "bougnafles."
Arch fenders
The cylindrical fenders are a great brand, but since innovation is unending, the Arch fenders were created to improve the cylindrical option. These fenders give you more uses and applications for any type of option. What's more interesting is you do not need to maintain the Arch fenders. That is coming after you do not spend so much on its installation.
Cone fenders
The cone fender is a relatively new type of fender, and it is an improvement of the cell type of fender. It is a way to save some money on installing the fenders. The great use of these fenders comes from their conical shape. The shape allows the fender to deflect forces more than usual. Also, there is a bit of increased absorption of energy from different energies on all sides.
D fenders
A D fender is a type of fender used on a small boat or a vessel. The primary material used to extrude this fender is solid rubber. To install the D fender is not such a complex task. All you just need to be sure of is having a clean surface, and there are no traces of the previous fenders.
Square fenders
If you have a vessel or a small jetty, the square fenders are an excellent choice for you. These fenders work with compression, and they work majorly on tugs and boats. The square fenders are great over time, and they have a bit of resistance against ultraviolet rays.
Conclusion
The main aim of a fender is to take in all kinetic energy coming from the boat when there is berthing against a jetty. Since it is a form of protection for the ship, there is a need to understand how the fender works. Also, you need to know what you are protecting your vessel against to know the choice of fenders to choose. This guide has explained some of the most common fenders you can use for your boats.